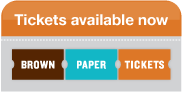 FRI, 4/5/2019 at 8pm
Five Minute Follies proudly present:
Bad Sex and Other Problematic Analogies by Stephanie C. Kernisan
Stephanie C. Kernisan aka Yitzhak of Philly's 20th Anniversary Production of "Hedwig and the Angry Inch" stars in a new solo show, "Bad Sex and Other Problematic Analogies". Alternatively titled "confessions of an unintentionally white-passing, mixed, fat, queer, feminist, switchy witch," Bad Sex explores heartache and healing with humor and humility. This show is part essay reading, part stand-up routine, part musical event written and performed by Stephanie C. Kernisan.
Join the event on Facebook.
@The Rotunda
4014 Walnut St.
Philadelphia, PA 19104
Click here for directions to the Rotunda
Doors 7:30pm
Show 8pm
Click the link above to purchase tickets or call 1-800-838-3006 to purchase tickets 24/7 over the phone.
PLEASE NOTE: Phone and web sales for all shows end midnight the day before the show. After that, tickets are available at the door.
Questions? Email fiveminutefollies@gmail.com.
Leave a Comment